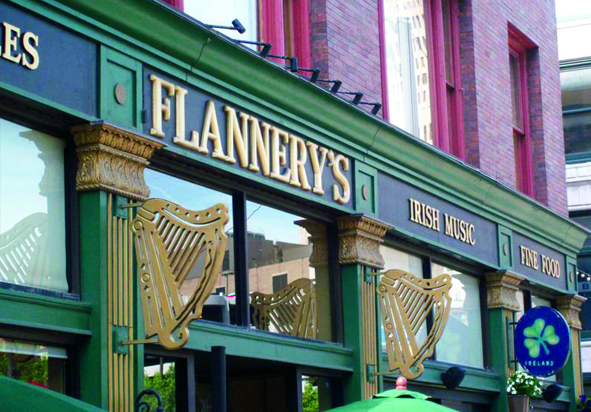 Flannery's Pub
Flannery's Irish Pub has been a Cleveland landmark since 1997. Renowned for our perfect pint, great comfort food, and the friendliest staff in Cleveland, Flannery's is called home by all who visit.
Located directly across from the Quicken Loans Arena on the corner of 4th and Prospect, in the heart of the Gateway Neighborhood, Flannery's is a great place to go for lunch, meet friends after work, to shoot a game of pool, or to fuel up before a Cav's game. After all, we are the only Irish Pub in Cleveland that pours a perfect 20 oz. pint!
At Flannery's we are fanatical about pouring the perfect pint. In addition to our Renowned Perfect Guinness we feature over 15 imported draft beers, all poured in a 20 oz. Imperial pint, not the diminutive U.S. 16 oz. Pint (shown below). There you have it, Flannery's perfect pint!